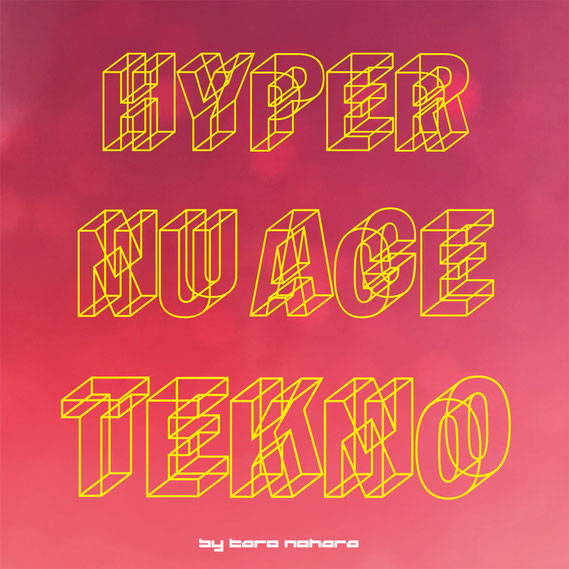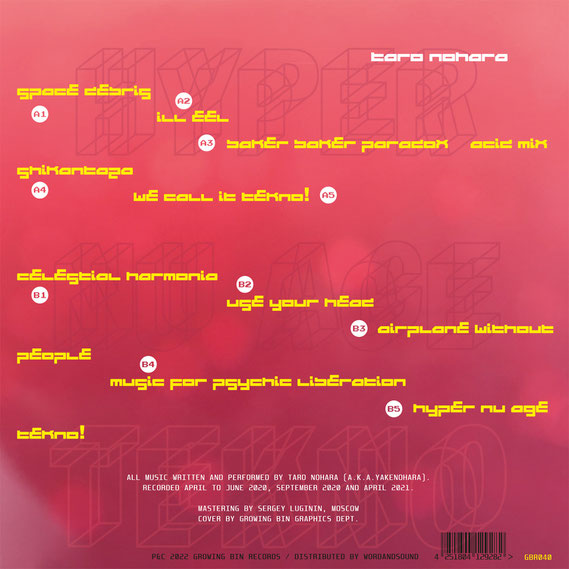 Taro Nohara - Hyper Nu Age Tekno
Style: Hyper Nu Age Tekno! / Contemporary Dance
Format: LP
Year: 2022
Condition: M/M
Equal parts Sheffield bleep, fractal IDM and interstellar ambience, Hyper Nu Age Tekno sees Taro Nohara (aka Yakenohara) plotting a star map on a faded rave flyer. Let the billionaires blast into orbit while you explore your inner space with Growing Bin.
From the LP's earliest moments, the whomping subs and crystalline chimes of "Space Debris", it's clear that we're a long way from Hamburg. Taro pilots this craft on a deep space exploration way beyond the run out groove, to a place where heartening chords herald a twin sunrise and any broadcasts are lost in translation. The polyrhythmic pulse of "Ill Ell" follows, its concentric chimes and rapid fire kicks summoning the teknoguild to a watery altar in the engineering department. Sticking with interstellar mysticism but taking a turn for the transcendent, "Baker Baker Paradox" spins Reich-ian repetition into a graphene gossamer embellished with chrome, crystal and shoegaze shimmer.
The B-side begins on the observation deck, bathing in the beauty of "Celestial Harmonia"'s sci-fi exotica, before the entheogenic "Use Your Head" prompts a delirious dash to the holodeck. Laying serene pads over a techy 4/4, Taro turns out the most danceable and dreamy track on the LP. As ambient chords ring out into the aether
and rhythmic pulses shift out of phase, "Airplane Without People" is the loading screen for your virtual fantasy, soon rendered through the woody percussion and spheric bass
of "Music For Psychic Liberation". Leave your body behind as you pick mushrooms in a CGI forest.
Mastered by Sergey Luginin @ Luginin Studio in Moscow
Distributed by wordandsound from Hamburg
Sales notes by Patrick Ryder
0,26 kg
Available
Ships within 3-5 days1