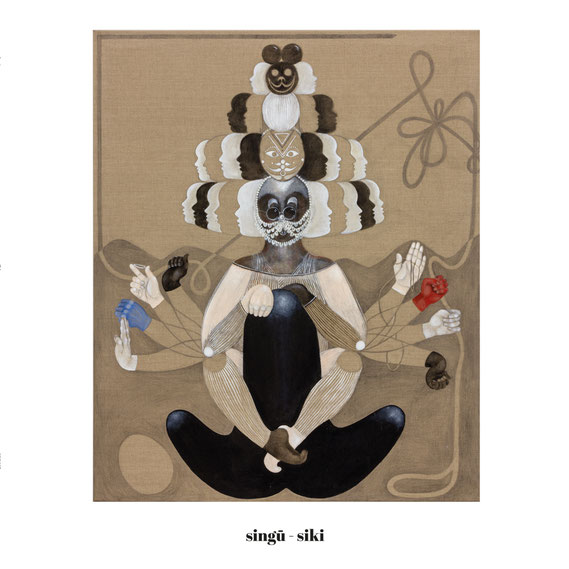 Singū - Siki
 
Style: Kosmik Improvisations
Format: LP
Year: 2018
Condition: M/M
Free your mind and float away, you're now entering the mode of the Growing Bin. Hamburg's centre for audio enlightenment is back with another sublime sensory experience, this time from the land of the rising sun.
Keen to get another stamp on his passport, Basso reached out to Japanese duo Singu, two open minded cats who just love to jam. Marrying Kiyo's free drumming with Keta Ra's melodic mastery of keyboard and guitar, the two-piece fuse free jazz, post-rock, kosmische and ambient into immersive and esoteric improvisations. Free from any compositional concerns, the Hiroshima outfit trade in energy, emotion and expression.
The frenetic percussion and ephemeral melodies of opener 'Aurora Gate' instantly transport you to the breathless churn of a Tokyo crossroads, where thousands of people rush by but you stand still in the eye of the storm. Though they may be explosive, the drums sit back in the mix, offering a soft intensity behind the shimmering wall of melody. A nimble and nuanced affair, 'Bop' brings rapid fire rhythm, slick syncopation and hypnotic piano refrains. Cool bass rolls along like KDJ's 'Rectify', as Singu update the acid jazz template like Toshio Matsuura covering Carl Craig. Singu journey from far out to Furthur on A- side closer 'Nagebu', strapping in for psychedelic synth wig out which is heavy on the resonance and free on the filter.
Blooming out of the darkness on the B1, Basso favourite 'Fazaria' soothes and moves you with its twinkling keys, nebulous wave forms and delicate guitar, leaving you wide eyed in wonder as the drum fills burst like fireworks across a starfilled sky. '828' sweeps into abstraction as Kiyo and Keta Ra combine snapping glitches and aquatic electronics with fractal guitar tones and woozy bass, pushing through a portal to see what's beyond. An a-grade wall melter, this trip makes great use of tension as the crisp ma- chine drums stand in sharp contrast to the whirring, blurring guitars. Finally '44' carries you home on a downbeat drift, a flawless fusion of buzzing electronics, misty pads and relentless percussion played with perfect poise.
Turn on, tune in and trip out, Singu bring you music from the moment that you'll love for a lifetime.
(words by Patrick Ryder)
0,26 kg
Available
Ships within 3-5 days1